Bitter gourd, also sometimes called Bitter melon, is an underrated vegetable across the world. This vegetable has countless other names and Karela is one of the famous asian names.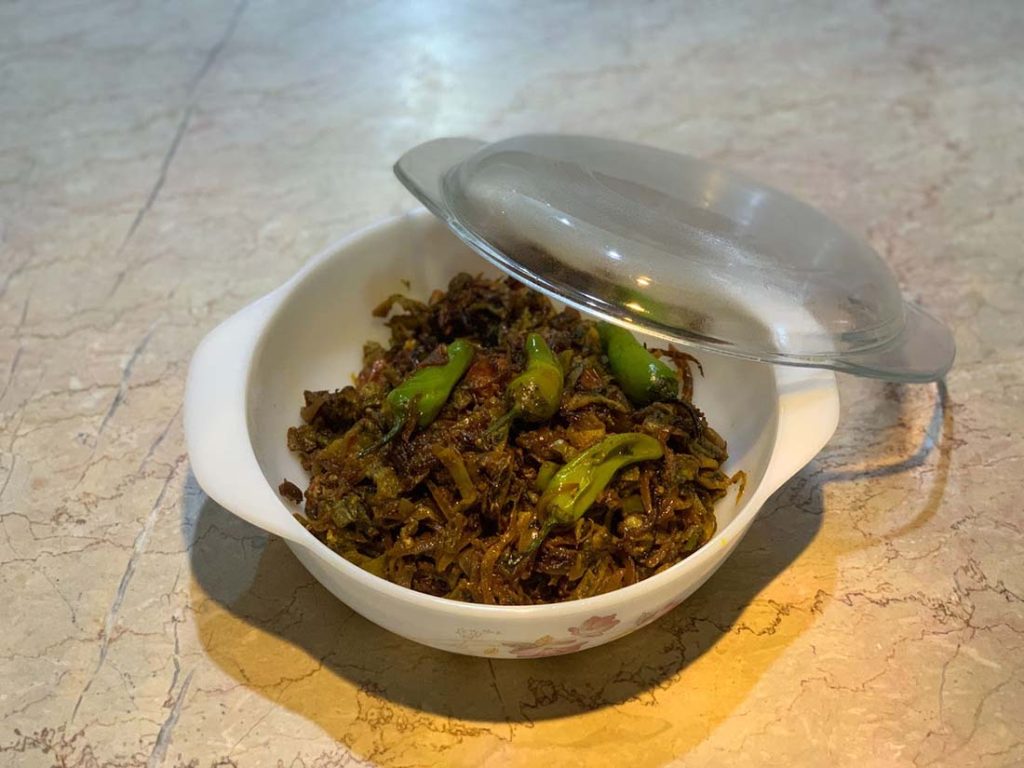 Bitter gourd belongs to the gourd family and it is found in abundance in India. Due to its bitterness, it is not easy to get accustomed to it. However, this vegetable is very nutritious and beneficial for health.
It grows best in the hot season but it is available in asian markets throughout the whole year. Normally, two types of bitter melon are commercially available: Chinese and Indian.
Chinese bitter melon is wider and longer, has a pebbled texture with light green color. Whereas the Indian gourd is shorter in size, has spiky knobs with dark green color. It is appropriate to use green, firm and unripe melon for cooking.
Bitter melon has a thick waxy skin and a spongy center where seeds reside. The bitterness can be lessened by scraping off the skin and removing the seeds. Soaking the gourd in salt water is another method of removing bitterness from the melon.  However, one can improve the taste of the recipe by following those steps.
This green vegetable holds significant importance in Indian and Pakistani cuisine. They cook dishes with meat and seafood like pickling, quick stir-fries etc.
However, karela or bitter gourd has many benefits for skin, hair and the whole body.
Benefits of Karela
Karela is a great source of dietary fibre. The presence of high amounts of antioxidants helps treat stomach disorders such as constipation, ulcer and intestinal worms.

ٰIt is effectively reduces the amount of LDL or bad cholesterol and fights against various types of cancers.

Karela juice is highly beneficial. A pack of vitamin B and vitamin C in karela supplies energy to the brain, uplifts mood and enhances cognitive abilities.

This Momordica charantia (Bitter melon) fights well against skin infections. The rich antioxidants, minerals and vitamins play a vital role in reducing acne and pimples.
How to make Karela ki Sabzi
Karela ki sabzi or dry Bitter Gourd curry is a stir fry and easy recipe. It tastes well when served with roti/chapati. This Karela ki sabzi is very delicious and it can be prepared in many ways.
Serves 4-5
Recipe in English:
Ingredients:
Karela (Bitter gourd) 1 kg
Namak (Salt) 1 & ½ tbs
Cooking oil ½ Cup for frying
Pyaz (Onion) sliced ½ kg
Tamatar (Tomato) cubes 3 medium
Hari mirch (Green chillies) 5-6
Zeera (Cumin seeds) roasted & crushed ½ tbs
Namak (Salt) ½ tsp or to taste
Haldee powder (Turmeric powder) 1 tsp
Dhania powder (Coriander powder) 2 tsp
Lal mirch powder (Red chilli powder) 1 tsp or to taste
Garam masala powder ½ tbs
Hara dhania (Fresh coriander)
Directions:
Karela or Bitter gourd needs a bit of preparation before cooking.
For Karela(Bitter gourd) Sabzi you need to scrap the Karela(Bitter gourd) and discard all seeds within. Remember to use firm, green and ripe karelas(Bitter gourd). Wash them and chop them into small pieces.
To remove bitterness, add about a tsp of salt. Mix well and leave aside for about 30 mins.
Karela(Bitter gourd) would have released water after 30 minutes. Wash it well then squeeze them in between your palms to extract salt water. This method helps in removing the bitterness from Karela(Bitter gourd) but also keep in mind that the medicinal value will also be reduced in Karela(Bitter gourd).
Take a pan and add the Karela(Bitter gourd). Heat them on medium flame without oil until dry completely.
Add cooking oil. Mix chopped karela(Bitter gourd) with oil and fry on medium flame until light golden.
Take out the fried Karela(Bitter gourd) and add sliced onions in the same pan.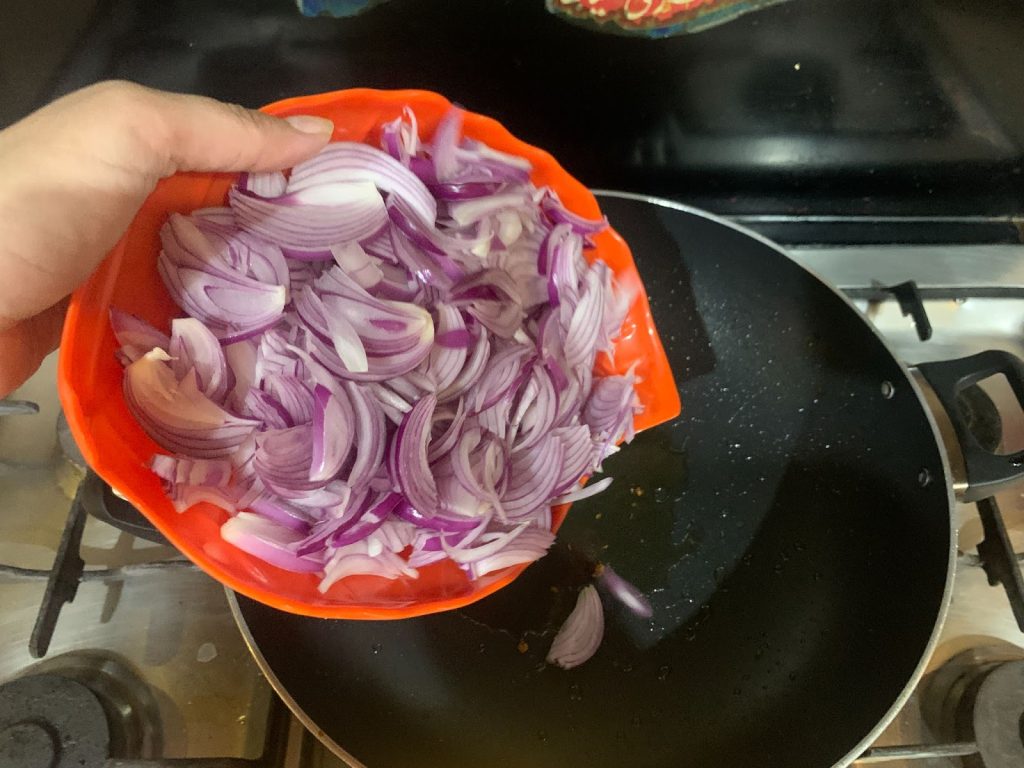 Cook for about 10 minutes on medium flame till the onions are lightly golden.
Add Tomatoes and green chillies. Mix well with onions and saute for 5 minutes.
Sprinkle cumin seed, turmeric powder, coriander powder, red chili powder, and salt as per taste.
Keep stirring to combine the masalas well. Dizzle water if needed as this will help prevent it from sticking to the bottom.
Now add fried Karela(Bitter gourd) and a little amount of milk cream and mix well. Cover with lid and cook on low flame. Onion becomes caramelized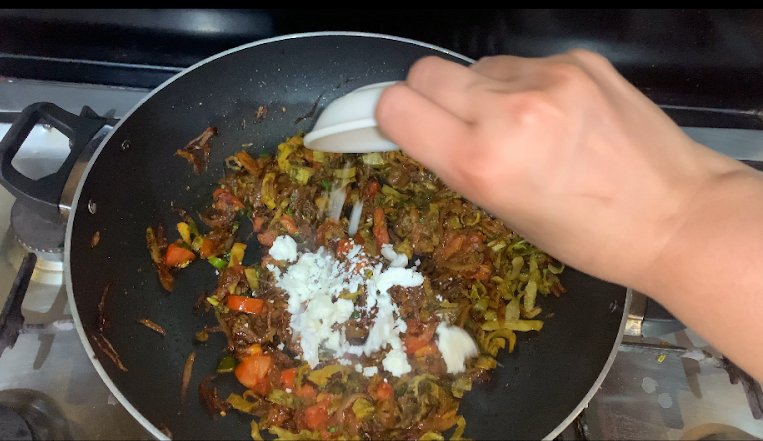 when cooked on low flame. This softness and sweetness of the lightly caramelized onions and milk cream help in balancing the bitterness of Karela(Bitter gourd).
Add garam masala powder and fresh coriander. Mix very well and switch off the heat.
Transfer the Sabzi or curry into a serving bowl and serve.