About Moringa Oleifera
Moringa Oleifera is a nutritious plant that is found in various areas of Pakistan, India, Africa, Afghanistan, Bangladesh, and South America. It is called by different names in different places due to the size of its bark. The plant has been used for quite a while now for its health benefits. Surprisingly, all the parts of Moringa can be taken as food or drink, making it a superfood. You can use the bark, seeds, leaves, and even pods in different ways to add to your food and make it healthier. From carrying antioxidant properties to helping you in weight loss, Moringa-plant can do it all. Today, we will talk about a few benefits of the Moringa and Moringa weight loss program.
A Few Benefits of Moringa Oleifera
Nutritious: Moringa-plant carries a good quantity of vitamins, proteins, and iron.
Antioxidant: The antioxidants help remove unnecessary elements like free radicals and extra fat from your body.
Reduces blood sugar level: It helps reduce blood sugar level saving you from diabetes, which can lead to other issues like heart and vascular diseases.
Decreases inflammation: It is also used to reduce inflammation of any kind, so for all chubby guys out there, the Moringa weight loss program might just be the answer.
Lowers cholesterol level: Higher levels of cholesterol may also result in weight gain, the plant can help in reducing cholesterol levels of the body, thus promoting weight loss.
Reduces fatigue: The plant provides your body sufficient amount of iron and Vitamin A that eliminates fatigue.
Makes your skin better: The Vitamin A and E in the powder make your skin healthy and radiant.
Help in muscle growth: As the plant contains amino acids and a lot of protein, it helps in building muscles.
Improves digestion: With all the calcium in it, the plant aids the digestive enzymes of your body.
Promotes normal vision: It contains Vitamin A, which facilitates in keeping the eyes healthy and the vision 6/6.
Strengthens the bones: It has a rich amount of Vitamin K, Calcium, and Protein. All these minerals make the bones strong.
---
Read more about the Benefits of Moringa
---
Why Choose Moringa-Plant for Weight Loss?

Speedy Metabolism
The efficiency of your metabolism is the reason behind your weight gain or weight loss story. If your metabolism is slow, you would tend to gain a lot of weight in a little time. On the other hand, if your metabolism is efficient, you get two benefits; you do not gain weight and it is easier for you to lose some too. This is why we recommend you to choose the Moringa weight loss program and add it to your daily diet. It will speed up your metabolism and help you lose weight in a short time while keeping you healthy and fit.
Anti-obesity action
In a study conducted back in 2014, the plant was given to a bunch of rats and after 49 days of treatment, those rates were examined. It was recorded that the rats had lost a lot of body weight, cholesterol levels, and organ weight as well. It also increased their body temperature, which aided in the speeding of metabolism.
Burns belly fat
As we know that it is antioxidant and anti-inflammatory, it decreases the existing belly fat and also prevents your body from accumulating it. By following the Moringa weight loss process, your waist size will also reduce, so no need to throw those pants away, just fit back in them.
How to Use Moringa for Weight Loss
Moringa-plant can be used in many ways to achieve your weight-loss goal. As mentioned earlier, nearly all parts of Moringa-Oleifera can be taken as food items. Moringa-pods are the part from where the seeds are taken from. You can eat pods in a dish or add them in salad, choice is yours. They do not taste much different from asparagus, so they would be pleasant to eat.
The leaves can be used in many dishes as well. You can add them in an omelet and won't even feel they are there. However, your body certainly would take advantage of it by shedding those extra pounds.
The plant can be used in different forms of weight-loss. You can use Moringa-powder, Moringa capsules, Moringa oil, Moringa Bitters, Moringa tea and so on Even though all the parts of Moringa plant are beneficial, the seeds are ideal for Moringa- weight-loss program.
Moringa Seeds for Weight-Loss
A good weight-loss strategy has to be balanced in order to ensure that you only lose weight and not your body strength. Many times, people start doing rigorous weight-loss remedies and exercises without really caring about what effect it might have on their body's strength. Wrong type of weight-loss remedies can leave you weak and prone to many diseases, which is why you should choose seeds for Moringa weight loss program.
With Moringa-plant, you will not have to worry about your health at all. Moringa seeds carry all the essential minerals and vitamins that you need for weight-loss. The seeds suppress your food cravings and your body would get the energy it needs to perform well.
Apart from these seeds, you can also use the recently famous Moringa tea to lose some of that extra fat and get in shape.
Moringa Weight Loss Tea
Moringa-tea is the easiest and most quickly made product of Moringa-plant with lots of benefits. Primarily made of Moringa-leaves, a regular Moringa-tea can be made by simply boiling water and put Herboganic sachet in it.
However, as we are highly aware that many people have really sensitive and strong taste buds, they can use any Moringa Tea Latte recipe, which not only serves the purpose of weight-loss but also tastes delicious. Let's see how you can make the latte tea to lose weight.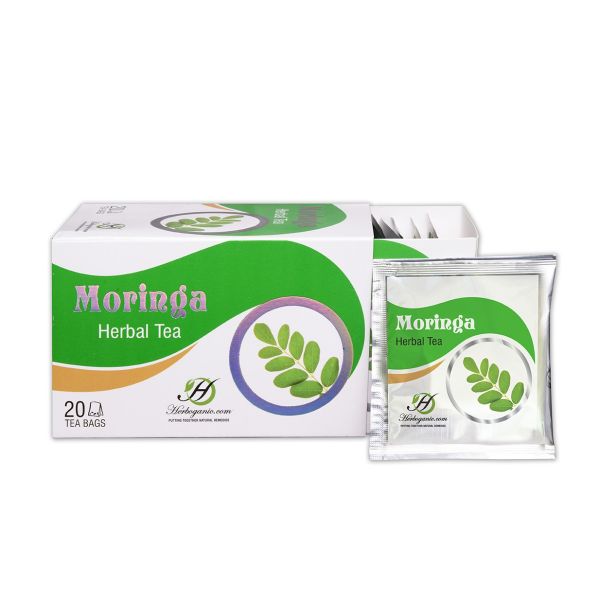 The ingredients you need to make this Moringa weight loss tea latte, are easily and widely available. You need four main ingredients for this tea
Moringa-leaf powder
Coconut oil
Maple syrup
Cashew milk
or you can buy NutriOrga Moringa Tea from us.
How would you make it?
You need to add all the ingredients in a pot and mix them enough that the Moringa-leaf powder is entirely dissolved. After this, boil that mixture just a little and voila! Your Moringa weight loss tea latte is ready to go. You can take it once or twice per day, too much of it is not recommended.
Apart from the tea, there are multiple other options that you can choose from to lose weight. Moringa-plant can be turned into many other yummy things that are very much in your health's favor and are easy to make. Here are some recipes that you can include in your Moringa weight loss diet to shed off some pounds.
Best Moringa Weight Loss Recipes
Although drinking tea is something most people can't live without, there still are some people who do not like this. For such people, here Moringa-recipes.
Moringa Smoothie
To make a Moringa-smoothie you would need the following ingredients:
Coconut milk, 1 cup
Moringa-leaf powder, 1 teaspoon
Cinnamon, ½ teaspoon
Cardamom, ¼ teaspoon
Turmeric, ½ teaspoon
Put all these ingredients in a blender and blend until it's a smooth drink. You can add honey to your taste if you want it to be a bit sweeter.
Moringa Leaf Sauce
To add this to your Moringa weight loss program, you need the following ingredients for this sauce.
Moringa-powder, 5 tablespoons
Peanut butter, ¼ cup
Onion, 1 medium sized
Water, 2 pints
Add red pepper and salt according to taste
Oil, 5 tablespoons
To make this sauce, you need to boil peanut butter and water for around 20 minutes. Then add chopped onion, Moringa-powder and the spices according to your liking. You can serve this with rice or chapatti.
Moringa Omelet
You can add a few leaves in your daily omelet. Boil the leaves and drain them before adding into your omelet at breakfast. Make it a part of your Moringa weight loss regimen.
Moringa Leaves Juice
For this juice you will need the following ingredients:
1 cup of Moringa-leaves
1 glass of warm water
1 tablespoon of honey
Juice squeezed from half a lemon
You need to blend the leaves in warm water. After they are completely blended, drain them and add honey and lemon juice. For better effects, it is recommended that you drink this on an empty stomach.
Moringa Guacamole
To make this, you will require the following ingredients:
Two avocados
One medium sized red onion
Chopped kale, two tablespoons
Moringa-powder, one teaspoon
Lemon juice
Black pepper, half a teaspoon.
You will have to add all the ingredients in a bowl and mash them till they reach the correct consistency that you like.
Side Effects of Moringa
It is a very safe plant to be utilized by humans as food. However, eating the roots or the extracts of roots would be a very bad idea because they contain toxins that can either kill you or paralyze you. Except roots, you can eat everything: leaves, fruit and seeds.
Additionally, if you are a pregnant woman, stay away from the roots, bark, and flowers of this plant; it can lead to miscarriage. Even during breastfeeding, it is suggested not to use Moringa-plant.
Some FAQs About Moringa Weight Loss Program
Here are a few questions about Moringa-plant that people ask often:
Q: Can Moringa-plant help you lose weight?
Yes, it can help you lose weight as its use speeds up your metabolism. This results in fat burning, making your body lose weight and getting slim.
Q: Can you eat Moringa-leaves?
Yes, you can eat Moringa-leaves. They can be cooked or eaten raw when they are fresh. Raw is better as cooking makes the leaves lose a part of their vitamins in the process.
Q: Can I boil Moringa-leaves and drink the water?
You can certainly do this! This is what a Moringa weight loss tea does for you. You can strain the leaves after boiling or you can just put them in the water in your cup after boiling and enjoy the tea.
Q: How do you take Moringa-powder?
You can take Moringa powder in any way you like. It is a very light tasting ingredient that you can use in juices, smoothies, sprinkle on salads, add in your baking, stir some in your soups or even blend some in your ice creams.
Q: Can Moringa-tea reduce weight?
Yes, it does help reduce weight. Adopting a Moringa-weight-loss program is one of the hottest trends nowadays due to its anti-inflammatory effects, which help the body to expel all the unwanted water. It also has high fiber content, which reduces fat accumulating.
Conclusion
After reading the above-mentioned ways and effects of Moringa-weight-loss-program, it would now be fairly clear to you what ingredient you should choose for your next weight-loss plan. Moringa seems to be the most reliable and safest way of achieving weight-loss goals.
As it has very few side effects and literally can be taken in any way you like, it is the easiest ingredient to be used daily. You can make anything with it; from a simple tea to a banana muffin.
It does not even have to be used in special food items, you can just sprinkle it on your food. Many people give up in the middle of their diet plan because it is just too much effort but following Moringa's weight loss program is the healthiest and most doable to lose those extra pounds around your belly.