Description
 Benefits of Vitamin E Serum
Discover the Transformative Benefits of  Vitamin E Serum
Unlock Radiant Skin with Vitamin E Serum
Are you ready to bid farewell to lackluster skin and welcome a truly radiant complexion?
Our Vitamin E serum is your ticket to a wealth of skincare advantages that can revolutionize your beauty routine. Here's why you should make it a part of your daily ritual:
Rediscover Youthful Skin
Experience the remarkable anti-aging prowess of Vitamin E. This superstar ingredient actively diminishes fine lines and wrinkles by stimulating collagen production. Regular application of our Vitamin E serum visibly revitalizes your skin's elasticity, revealing a more youthful and vibrant you.
Guardian of Skin Health
Your skin faces daily challenges from environmental aggressors like UV rays and pollution. Our Vitamin E serum acts as a robust antioxidant, forming a protective shield around your skin cells. This shield not only thwarts premature aging but also contributes to your overall skin well-being.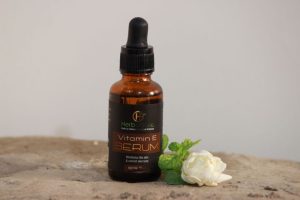 Intensive Hydration
Banish dry, flaky skin forever with our Vitamin E serum. Its exceptional moisturizing properties deeply hydrate your skin and lock in precious moisture. Experience the luxury of smoother, plumper skin, achieving that coveted dewy appearance.
Fade Scars and Stretch Marks
Harness the regenerative potential of Vitamin E to reduce the appearance of scars and stretch marks. Our serum's skin-repairing properties gradually fade imperfections, promoting a more even and radiant skin tone.
Accelerated Healing
Whether it's sunburn or damaged skin, our Vitamin E serum accelerates the healing process. It soothes irritated skin, reduces inflammation, and promotes swift tissue repair, ensuring a faster recovery from skin concerns.
Extra UV Protection
While not a substitute for sunscreen, our Vitamin E serum offers an additional layer of protection against UV damage. When combined with sunscreen, it enhances your skin's defense against the harmful effects of sun exposure.
Suitable for All Skin Types
Our Vitamin E serum is non-comedogenic, making it compatible with a wide range of skin types, including sensitive and oily skin. Choose a product that caters to your skin's unique needs for optimal results.
Seamless Integration into Your Routine
Incorporating our Vitamin E serum into your daily skincare regimen is effortless. Apply it after cleansing and toning, just before your moisturizer, to maximize its benefits. Seamlessly integrate it into both your morning and nighttime routines.
Refine Skin Texture
Experience smoother, more evenly textured skin with consistent use. Vitamin E works wonders in reducing rough patches and irregularities, leaving your skin irresistibly soft and silky.
Radiant, Glowing Complexion
Achieve a luminous and refreshed look with our Vitamin E serum. It accentuates your skin's natural radiance, leaving you looking and feeling rejuvenated.
Experience the enchantment of our Vitamin E serum for yourself. Elevate your skincare game and relish these remarkable benefits. Your skin deserves the very best, and our Vitamin E serum delivers precisely that."